Our clients trampoline batteries
France Trampoline has put all of its know-how into providing leisure professionals with safe, robust and high-performance trampolines. We can provide modular and upgradable trampoline batteries.
Camp sites, indoor and outdoor leisure parks and even communities have already placed their trust in us. Why not you? This page puts forwards several of our trampoline battery creations for professionals.
Aero battery 3 rectangular trampolines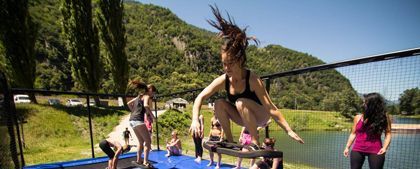 Newly installed in the Alpes, this battery of 3 trampolines allows free riders from all backgrounds to practice their wake board jumps before braving the water at the Poule Wake Park in Feissons sur Isère (73).
Aero battery 4 rectangular trampolines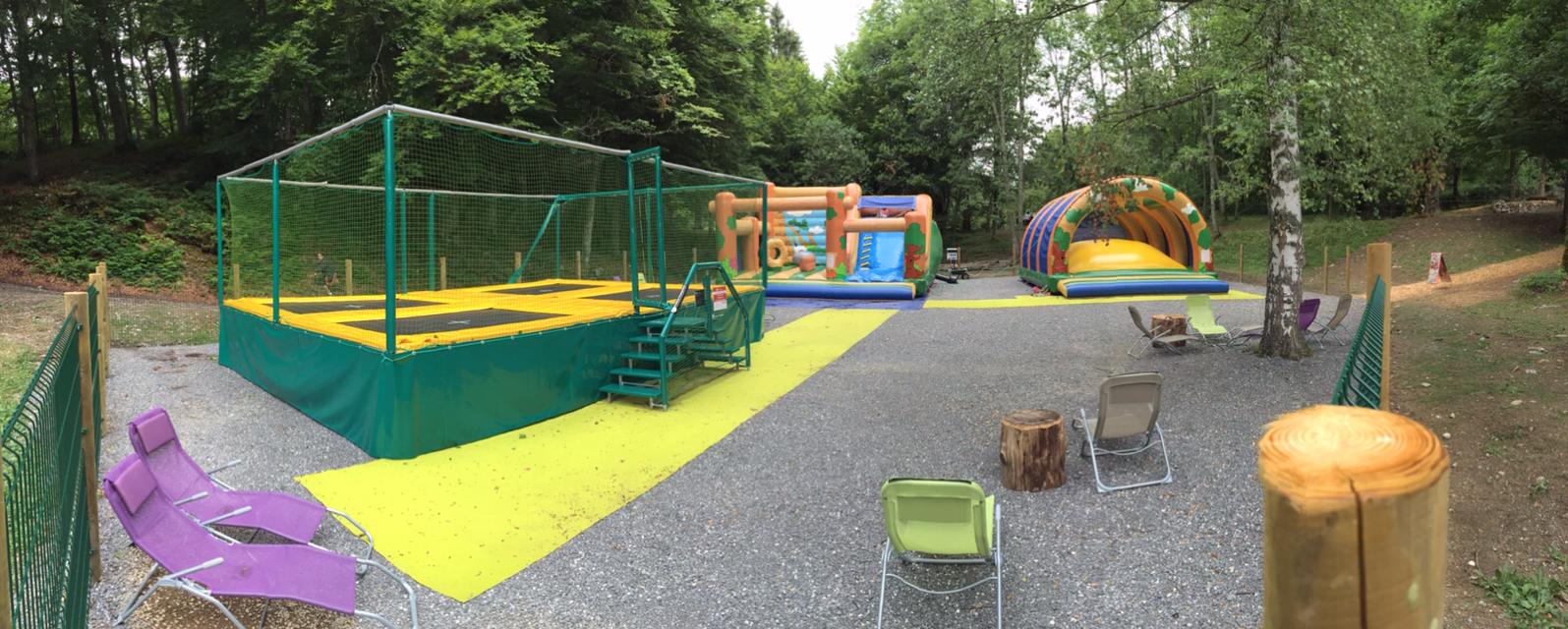 This battery of 4 trampolines perfectly complements the treetop adventure park located in the heart of the Fort de Tamié adventure park in the Rhône-Alpes region. Since July 2015, visitors have been able to discover the joys of trampolining, and this throughout the year.
Aero battery 6 rectangular trampolines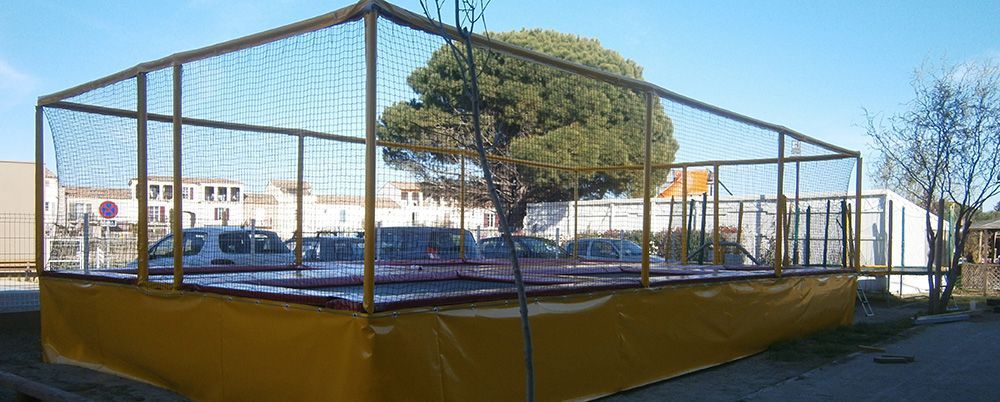 Located in the Languedoc-Roussillon region, this battery of 6 rectangular trampolines has been providing much fun to children, since April 2015. This battery is operated all year round (with other sporting activities) by th SARL les Enfants d'Abord manager.
Aero battery 10 rectangular trampolines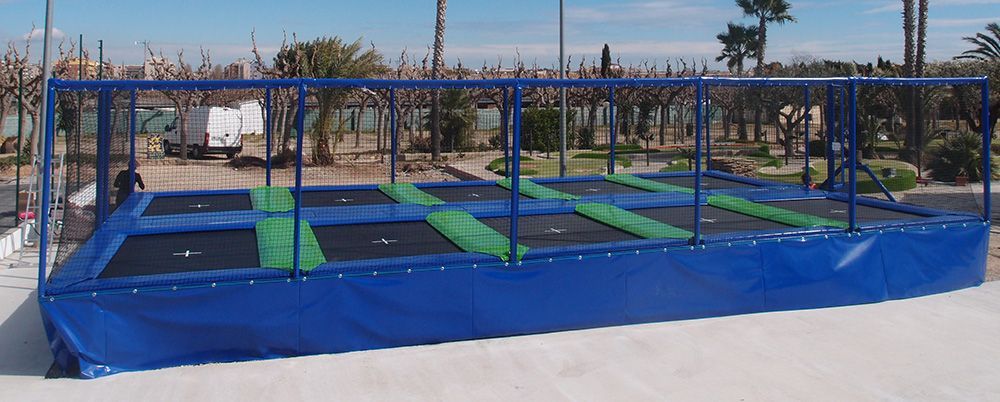 Installed in February 2015 on the mediterranean coast, this structure of 10 trampolines with enclosure is the biggest battery we can provide (18 x 8m). Thanks to the popularity of this activity, this big southern resort did not hesitate to replace their old battery of trampolines with this new extra-large installation. This investment is easily profitable by charging this activity.
Aero battery 10 rectangular trampolines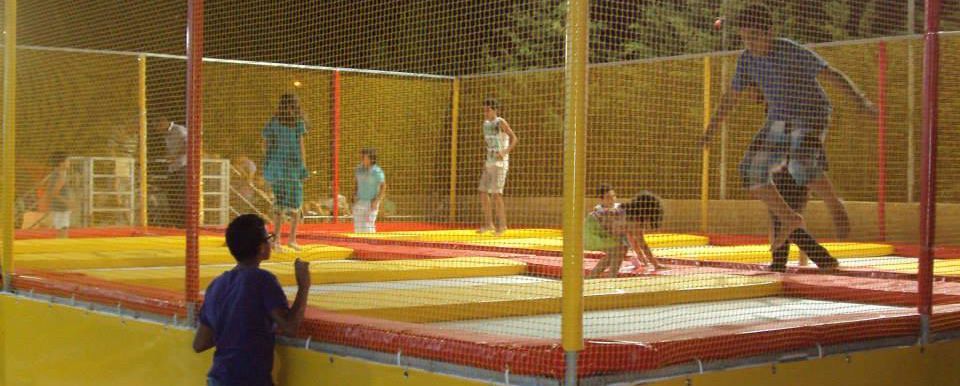 Since 2013, this big trampoline with enclosure made up of 10 jumping mats, has provided Tunisian children with many hours of fun. Resistant to sunlight and to the heat, this battery of trampolines is very popular with children. France Trampoline can export this type of product easily.
Aero battery 4 rectangular trampolines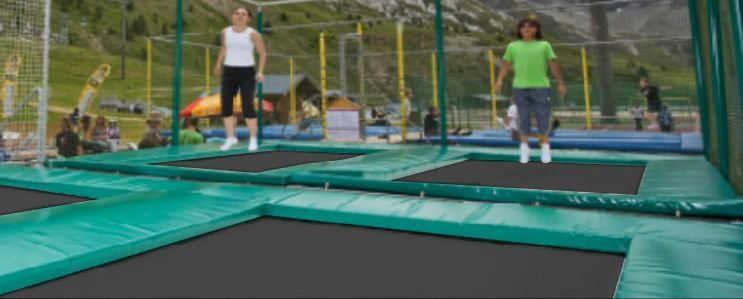 Since 2011, the Canyon Forest adventure park in the Alpes-Maritimes region is equipped with a battery of 4 rectangular trampolines. The trampoline perfectly complements the different "nature" activities for children. After several years of use, this trampoline is still as efficient and welcomes young adventurers that want to warm up or unwind before or after physical exercises.
Trampolines for children's park - Gironde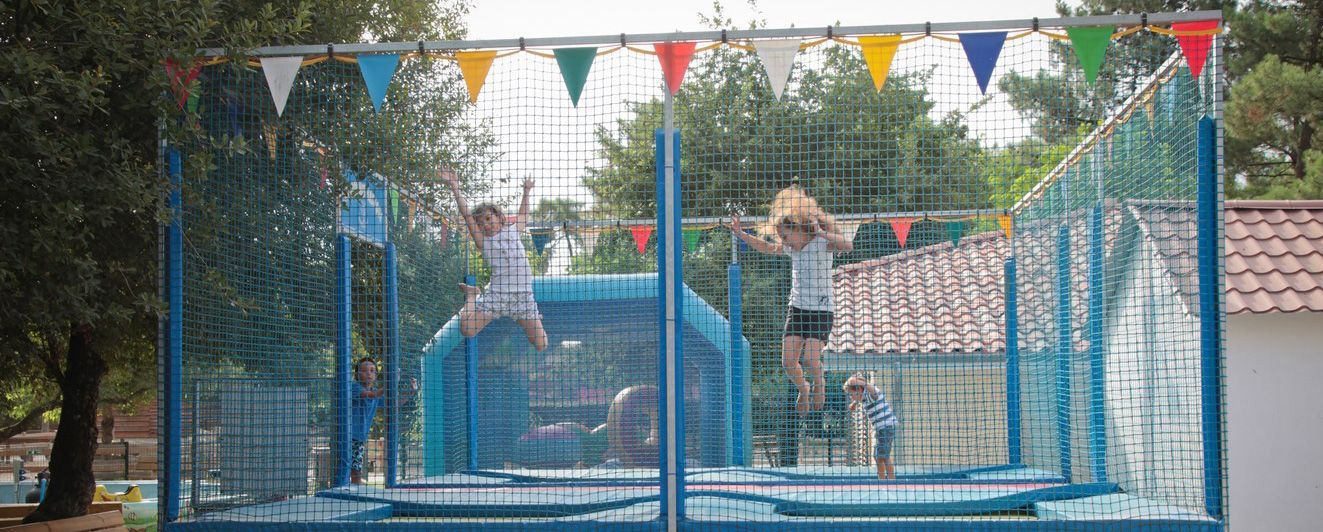 The longevity of this battery of 4 trampolines with enclosure is a great example of France Trampoline's know-how. Installed in 2005 in La Coccinelle children's park (Gironde), the battery is still as popular as before! Only this year did the frame pad covers need to be replaced!
Aero battery 6 trampolines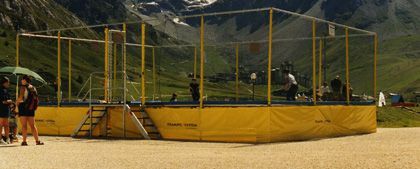 Used during the summer season in a big outdoor leisure centre in the Alpes-Maritime, this battery of 6 rectangular trampolines has been amusing children for more than 10 years.
The original frame pads, jumping pads and netting are still used till this day prooving the quality of the materials used for this trampoline designed for professionals.
Layout ideas : snack area around a trampoline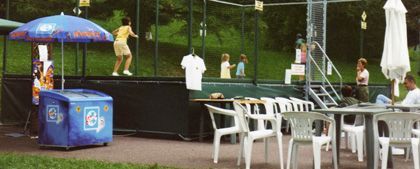 While the children are playing on the Aero trampoline, parents can keep an eye on their children. Install a few chairs around some tables and this area can become a great relaxing snack area!
A good concept : quickly improve profitabiliy of your investment by providing a snack bar with refreshments and ice creams.