Product test conclusion :
Hammock floor test by Emilie D.
Statement:
I love seeing the old framework of my living room and watching my children reading a comic book calmly on the net with a few cushions.
The products :
Transparency
Zen atmosphere
France Trampoline customer service team
The price: 63 € /sqm all included!
The products :
Having to explain to the children to not jump on it
Our review: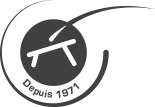 In terms of visual effect, it is a pleasant surprise. Simplicity, light, transparent and sobriety all combined together.
A gaint hammock floor net adds a touch of fun and modernity to my living space and fits in perfectly with the architecture of the house: it is discreet enough to adapt to the style of decoration we opted for in this Limousine barn. Visually we forget about it and it allows to prolong the surface and space of the mezzanine.
It is more reassuring than a guardrail that secures a mezzanine. I also appreciated Corentin P's (sales engineer) availability, who was always clear and gave good advice.
Summary:
I liked : Originality and great use of overhead space
I recommend : Ideal for re-arranging a mezzanine in a family home
Price : 635,00 € VAT and delivery incl.
Check out the product
Check out our other product tests